There are several things to consider when buying a camping tent. There are tents for all kinds of uses (Camping, Trekking, Cycling, High Mountain) and of various sizes (from 2 to 8 people). Normally, it is preferable to sleep tight than to carry too much weight. Next we explain the different ways that there are to classify and differentiate the tents.
tent according to its shape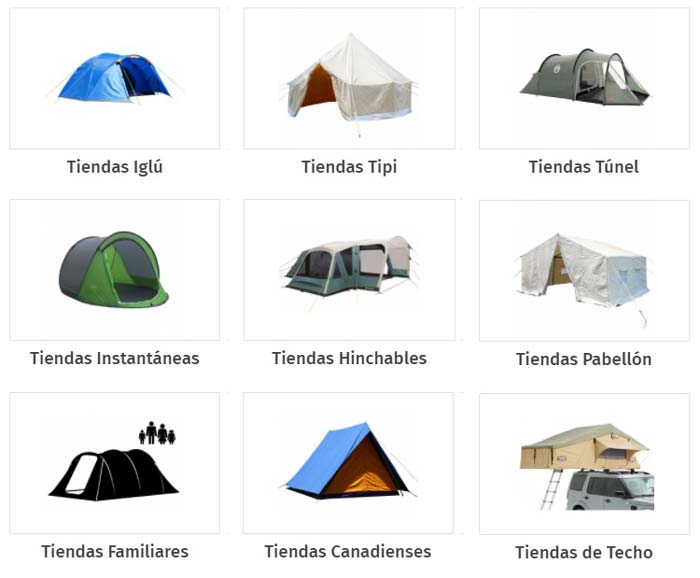 Igloo tents: Igloo-type camping tents are the most used. Instead of fastening with a pole like the Canadian ones, the Igloo tents have a system of intersecting flexible rods that give it the shape of a turtle shell, hence its name. Within the Igloo category there is a variant called Pop'up tents, since they are camping tents that open by themselves when thrown into the air. Pop'up tents are very practical, light and easy to transport, ideal for a couple's getaway.
Canadian tents: The Canadian type camping tents are the most characteristic, the typical triangular tents. Its main drawback is that the roof of the tent is supported by a stick that goes inside the tent, at the rear. Such a stick can often get in the way of setting up a mattress and can be knocked over by children if they run by. In addition, not all the space that could be had inside the store is optimized.
Tipi or Bell Tent: Tipi tents, inspired by Indian tribes, usually have a central pole that supports the tent. While the pure tipis are cone-shaped, with the roof reaching directly to the ground, the bell tents have small side walls, between 40 and 120 cm, which gives them a bell shape and hence their name. Both teepees and cotton bell tents are designed for long stays, but there are very light polyester or nylon models that can be assembled very quickly.
Tunnel tents: Tunnel tents are similar to igloos, since they usually have collapsible duralumin rods, but the structure of these rods does not cross, but rather they are aligned one after the other forming a tunnel. This allows to be able to place the rods and most of the pegs with the tent completely stretched on the ground. When it is almost assembled, just by finishing tensioning the tent is raised, and you can place the last pegs to secure it. This is very useful in very windy places.
Pavilion Tents: Pavilion type camping tents have a stronger and more resistant structure, but with a more permanent character. It's your typical military base camp store.
Family Tents: These camping tents are a hybrid between igloo and pavilion tents, being very tall and resistant tents in which several rooms and compartments fit, so that the whole family can enjoy camping.
car roof tents: Car roof tents are widely used in the United States and are opening a niche in the European market. There are canvas tents, which open like a book, and hard top tents, which tend to open vertically and have less capacity. You can consult a roof tent guide from lazy camping
Tents according to the time of year

2 season tents: 2 season camping tents are ideal for summer temperatures. Its inner material is made of a very fine and breathable fabric, and allows not to accumulate too much heat inside the tent, an economical option but with a limited level of comfort in strong winds and/or heavy rain.

3 season tents: These camping tents are ideal for late spring, summer and early fall. They withstand slightly lower temperatures and their impermeability is greater than that of two-season camping tents. Tent that we recommend for its quality and characteristics for heavy rain in summer since its impermeability on the ground and on the roof of the tent normally allows it to withstand a water column of 4000 mm.

4-season or high-mountain tents: The 4-season or high-mountain camping tents are more resistant and have a fabric that is resistant to wind and rain. They are usually of the igloo type and have a greater number of rods than 3-season tents, to offer superior wind resistance. Watch out! The tents protect from the wind and the rain, but not from the cold. It is important to select a sleeping bag that suits our needs.
Tents according to their size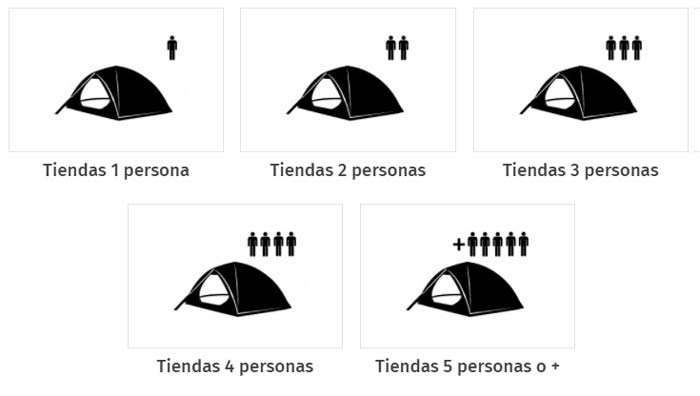 Normally, it is preferable to sleep tight than to carry too much weight. Our tents are classified according to the number of people that fit inside. The calculation of said number of people corresponds to 50cm width per person. Therefore, a 4-person tent actually fits 3 people comfortably, leaving room for all three backpacks. Our tents are classified as follows:
Tents for 1 person
2 person tents
3 person tents
4 person tents
Tents for 5 people or more
Sometimes large tents or family tents may be needed. They are usually common in camping with friends, family or in large camps with hikers, escorts, Sherpas or boy scouts.
Other important features when choosing the tent
Once we know what type of store we want, for what time of year and how much capacity, there are a couple of additional features that should be controlled:
The weight: On many occasions, especially if one goes climbing or cycling, the weight of the tent becomes very important. In those cases, there are ultralight camping tents and bags such as the Excursion, Bike and pop up tents, or the Microlight or Light sacks, which weigh less than 1kg.
The material: There are mainly two types of materials that camping tent tarpaulins are made of: Cotton and Nylon. Cotton is more breathable while Nylon is more resistant.
waterproofness: It is what will protect us from the elements. The unit of measure for waterproofness is usually expressed in cubic cm of water. To measure the waterproofness of a camping tent, water is collected in a tube sealed with the tent canvas and the amount of water it can hold before the fabric begins to lose its waterproofing is measured. In other words, if a tent has a water column of 5.000 cubic mm, it means that 5 cm2 of water are needed in the tube in contact with the tent canvas for the water to start filtering through the canvas.
Accessories for the store: When buying your tent remember to check that you have all the accessories. In addition to the floor, the tent and the double roof, check that you have all the pegs, guys, mallet, and other accessories necessary to set up and anchor the tent. Other accessories can also be very useful, such as a mosquito net, a lantern, etc.